Dry Eye Treatment
Find relief from dry, itchy, irritated eyes.
Dry eyes affect millions of people in the United States. It is estimated that as many as 4.88 million Americans over the age of 50 suffer from this uncomfortable condition.
If you need help, request an appointment at Deltavision Optical Center. We'll help you find a treatment option that brings you the relief you're searching for.
What are the common symptoms of dry eye?
Everyone experiences dry eye differently because there are so many potential underlying causes.
Typical symptoms include:
Redness or eyes that appear irritated and bloodshot
Consistent burning or tingling sensations in the eyes
Eyes that feel itchy or as if they have something in them
Increased sensitivity to bright lights or sunlight
Excessive tearing, or eyes that always appear watery
What causes dry eye?
There are many potential causes of dry eye.
In some cases, the cause is obvious, such as environmental irritants or short-term inflammation.
Some of the other causes of chronic dry eye problems include:
Disease of the meibomian glands
Blepharitis
Allergies
Defects that affect the eyelid or shape of the eye
Certain medications
Abnormal eye pressure
Deficiency of aqueous fluids
Because the underlying causes vary, treatment methods after diagnosis will also vary according to the patient. It is also not uncommon for there to be more than one cause for dry eye.
How is dry eye diagnosed and treated?
Through imaging of the meibomian glands, measuring osmolarity of the tear film, and screening for certain conditions, we are able to diagnose and provide treatment for the condition.
Can I prevent dry eyes?
There are a number of steps you can take to prevent dry eye or treat occasional dry eye symptoms at home.
Make Blinking Exercises a Part of Your Routine Try the 20-20-20 rule when performing computer work or reading: Every 20 minutes stop, look at something 20 feet away and blink for 20 seconds.
Limit Exposure to Moving Air Air movement, whether natural like a windy day or artificial like a fan, can dry the surface of the eyes. Avoid fans and wear protective glasses on windy days.
Use Warm Compresses A warm compress followed by gently washing the eyelids can refresh the eye's natural lubrication process.
Outfit Your Home with a Humidifier and Air Filter Keeping air moist and free of pollution or allergens can significantly improve dry eye symptoms.
Supplements Dietary supplements of omega-3 fatty acids, such as fish oil pills, may prevent some dry eye symptoms. Talk with your doctor before taking new supplements.
Stay Hydrated Drinking plenty of water can help many bodily functions, including eye lubrication.
Over-the-counter Eye Drops Artificial tears can provide immediate relief from dry eye symptoms. There are many types available so you can find which one works best for you, and if you use them often consider preservative-free brands.
Dry Eye Treatment Options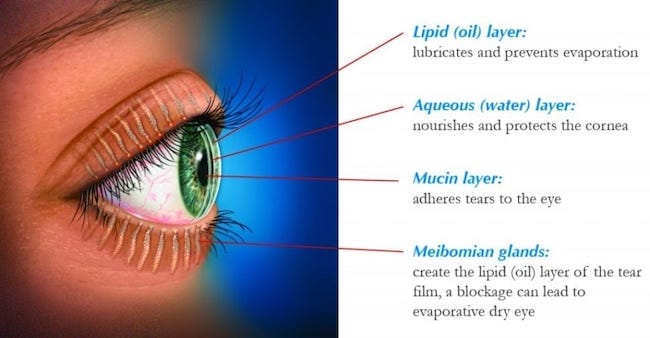 If you suffer from frequent dry eye, and your symptoms are not alleviated by home remedies, Dr Espy at Deltavision Optical Center may be able to help. We specialize in dry eye treatment options, including:
Prescription Eye Drops such as Restasis® and Xiidria®, can alleviate chronic dry eye symptoms and reduce inflammation.
Lacrisert is a prescription eye supplement that is placed under the eyelid to promote ocular lubrication.
Punctal Plugs also called lacrimal plugs or tear duct plugs, are small medical devices that an eye doctor can insert in the tear ducts to impede drainage and help eyes stay lubricated.
If an infection is causing the issue, low-dose antibiotics may also be prescribed.
Dry eyes are not only uncomfortable — they can also be bad for the health of your eyes. Book an appointment at Deltavision Optical Center to find relief.